CMFW Artists' Concert Series Spring 2017 presents
"World of Joy"
Friday April 21, 2017 at 7 PM – Program I
Saturday April 22, 2017 at 4 PM – Program II
Oak Hill United Methodist Church 7815 W. Hwy 290.  Austin, TX  78736
      Six Suites for Cello Solo by J.S. Bach
Francesco Mastromatteo, Violoncello
 
Radio Interviews about the concerts with Francesco Mastromatteo:
At the KMFA – Austin Classical Music Station
AT KUTX – Austin Public Radio Station
PROGRAM DESCRIPTION
"World of Joy" is the marvelous path traced by Johann Sebastian Bach in his Cello Suites written between 1714 and 1723. It is a path made by very essential simple and immediate tools: four strings, the definite shape of an instrument with extraordinary expressive possibilities and the ability to imagine the future of the cello in terms of technique, timbre and artistry, connecting deeply with its "HUMAN VOICE". In this suites appears the philosophy of J.S. Bach, the composer who writes "For God and the elevation of the Human Spirit", the creator of a world where variety is born from an unique timbre, new for that time, and immediately able to express the infinite shades of the human spirit, its multiplicity of thoughts and feelings.
The Suites are Soul transformed into Sound, starting from the purity of their opening gesture, until the complexity of architecture in the last dances. It is a journey which erases gravity, frees desires, creates a future, and nurtures hope in Life, in a World of Joy, which transfigures Sorrow into Perfect and Music, Eternal in its Beauty.
Program I – April 21, 7 PM

J.S. Bach: Suite BWV 1007
Prelude
Allemande
Courante
Sarabande
Menuet I&II
Gigue
J.S. Bach: Suite BWV 1008
Prelude
Allemande
Courante
Sarabande
Menuet I&II
Gigue
 J.S. Bach: Suite BWV 1009
Prelude
Allemande
Courante
Sarabande
Bourrèe I&II
Gigue
J.S. Bach: Suite BWV 1010
Prelude
Allemande
Courante
Sarabande
Bourrèe I&II
Gigue
Program II – April 22, 4 PM

J.S. Bach: Suite BWV 1011
Prelude
Allemande
Courante
Sarabande
Gavotte I&II
Gigue
J.S. Bach: Suite BWV 1012
Prelude
Allemande
Courante
Sarabande
Bourrèe I&II
Gigue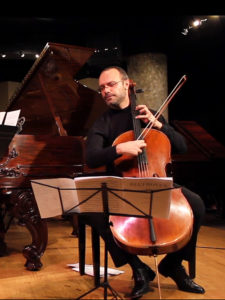 Francesco Mastromatteo, cellist
Described as a "virtuosic and passionate musician" by the Dallas Morning News, the Italian-born cellist Francesco Mastromatteo keeps performing in Italy and U.S.A. He is the artistic director of Associazione Amici della Musica "G. Paisiello" in Lucera (Italy) and he is also artistic director of the non-profit organization Classical Music for the World in Austin (Texas). From 2008 to 2013 he has been the artistic director of the concert series "Spring of Harmony" held at S. Andrew's Presbyterian Church in Dallas. He is currently Professor of Chamber Music at the Conservatory "U. Giordano" in Foggia (Italy) – Residency of Rodi Garganico.
Francesco performed as soloist with Meadows Symphony Orchestra in Dallas, Round Rock Symphnony, Balcones Community Orchestra, Orchestra Sinfonica "Città di Pescara", Orchestra Sinfonica della Provincia di Foggia, the orchestra "Suoni del Sud", Meadows Wind Ensemble, and Starlight Symphony. He also performed J.S. Bach's solo suites in the US and in Italy at the prestigious Ravenna Festival in 2009. He keeps a busy schedule as chamber musician and is now the cellist of the Duo & Trio Mastromatteo. He performs in duo with pianists A. Wright, C. Wright-Ivanova, and M. Schneider. He also collaborated in duo with A. Pompa-Baldi recording Grieg's cello sonata op.36 for Centaur Records. Francesco has been invited to perform solo recitals and teach master classes at Oklahoma City University, University of Nevada – Las Vegas, and Southern Methodist University.
Interested in performance practice as well as in contemporary music, Francesco performed with baroque ensembles like Concerto Italiano and Camerata Anxanum. He also performed the world premieres of T. Sleeper cello sonata, and of works for cello solo by S. Taglietti (Symplex), R.Franck (Taberah) and K. Hanlon (That's It).
He won first prize in the National Cello Competition "G. Turci" in Ravenna and first prize as duo cello and piano with Tommaso Cogato in the International Competition "Città di Padova". He was Principal Cellist of Orchestra Sinfonica Umberto Giordano of Foggia from 2003 to 2004.
Francesco completed his Doctoral degree in Cello Performance at the Butler School of Music at the University of Texas at Austin in 2012 working with Bion Tsang, he also holds a Master Degree and an Artist Certificate from Southern Methodist University where he studied with Andres Diaz. In Italy, he worked with teachers like A. M. Mastromatteo, M. Shirvani and L. Piovano and R. Filippini.
Following an inborn love for various artistic paths, Francesco also holds with honours a Master Degree in Literature and History of Arts from the Università "Aldo Moro" in Bari. He published a volume on Italian composer Umberto Giordano for Bastogi Editrice and an extensive article on Kodàly Solo Sonata op.8 for the International Journal of Musicology.