Talking About the Event:
Interview at the KOOP radio station.
Video interview with Younnie Hur and Rehema Apio about their cooperation and the Love Concert.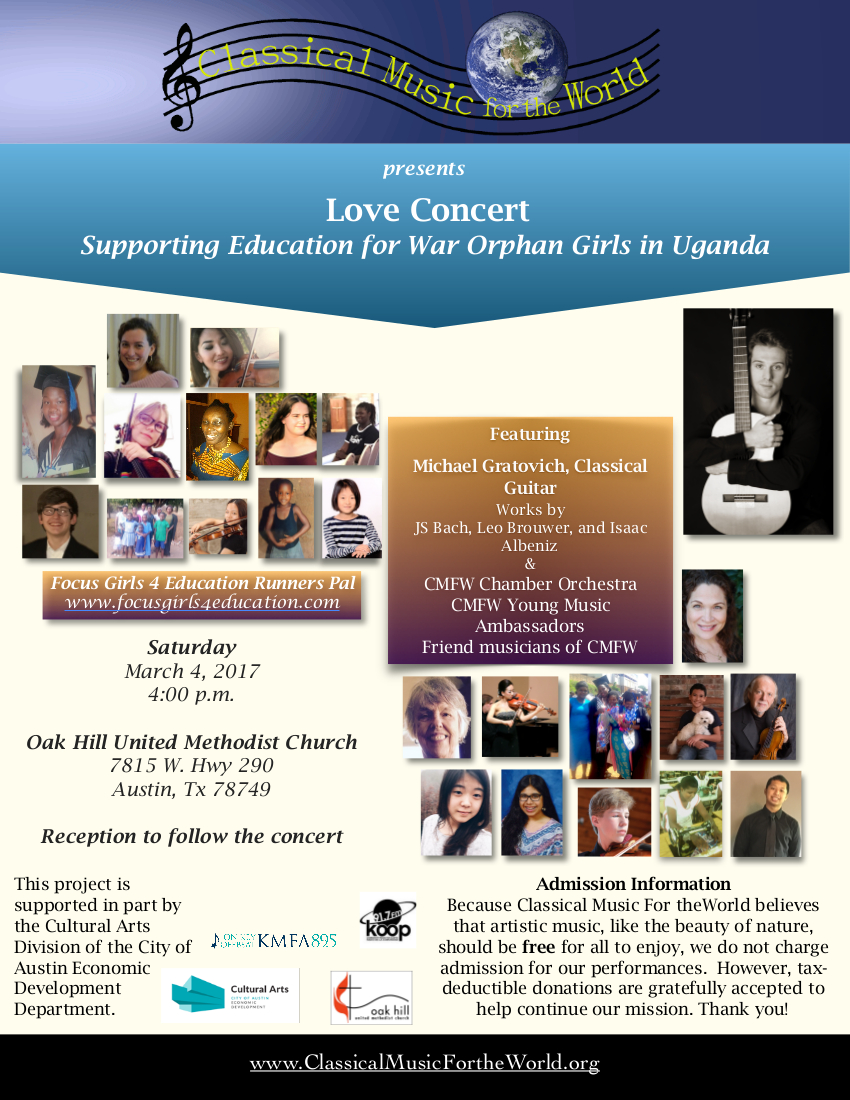 Love Concert, one of the CMFW programs, is our way of caring for individuals and communities. All of the donations we receive go directly to the benefiting charities, projects, or organizations we have committed to help.
This time, we invite you to the concert that will support the education of war orphan girls in Uganda through our partnership with a non-profit organization, "Focus Girls 4 Education Runners Pal".
Please visit their website to learn more at: http://focusgirls4education.com
Ms. Rehema Apio, the founder of the benefiting organization, will be in attendance and available for your questions.
The featured soloist is Michael Gratovich, classical guitarist: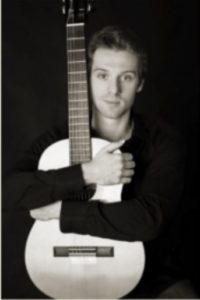 Michael Gratovich is an active guitarist and music educator based in Los Angeles. In 2016, he was invited to join the USC Thornton Opera in their Fall production of Osvaldo Golijov's flamenco-inspired opera, Ainadamar. He has also been an invited artist of the Colburn Orchestra, the Austin Symphony Orchestra, and the GRAMMY-winning vocal ensemble Conspirare, with whom he recorded an album of new music on the Harmonia Mundi label. The album, "Pablo Neruda: The Poet Sings," received a 2016 GRAMMY nomination for best choral performance. Michael has been invited to present solo recitals by Austin Classical Guitar and the Philadelphia Guitar Society, and presented two programs of solo and chamber music by Latin American composers in the third annual Villa-Lobos International Chamber Music Festival in Los Angeles in 2017.
Michael is a prizewinner in several competitions, including first prizes in the 2014 Philadelphia Classical Guitar Competition and the 2014 Pacific Guitar Festival in Los Angeles, as well as second prize in the 2013 ASTA-LA Classical Guitar Competition and first prize in the 2011 Classical Minds Guitar Institute and International Competition in Houston, Texas. His chamber ensemble, Sunset Club Trio, was a winner of the 2016 Beverley Hills National Auditions resulting in concert engagements throughout Southern California in 2017.
Michael Gratovich began playing classical guitar in Austin, Texas, when he was eight years old. After many years of study with Dr. Matthew Hinsley, executive director of Austin Classical Guitar, Michael continued his musical education at The University of Texas at Austin, earning his Bachelor's degree with legendary American classical guitarist, Adam Holzman. In 2014 Michael earned the degree of Master of Music from the University of Southern California in Los Angeles, where he is currently engaged in Doctoral studies with a Teaching Assistantship award. Michael studies guitar performance with Scott Tennant and William Kanengiser (both founding members of the Los Angeles Guitar Quartet), Maestro Pepe Romero, and flamenco guitarist Adam del Monte.
Program

The Swan from The Carnival of the Animals ………………………………..Camille Saint-Saëns (1835-1921)
Daniel Hur Meglino, age 13, cello
Sheryl Stack, piano
"Unity" and "Peace" ………………………………………………………………..Evelyn Jagpat  and  Kaith Routledge
Evelyn Jagpat,  poetry
Younnie Hur, violin
Gelsomina Min Meglino, age 16, voice
Presentation by the Focus Girls 4 Education Runners Pal
Rehema Apio, Founder & Executive Director       Terri Vaughn, board member       Ron Cockroft, board member
Music Program
Susana's Wedding………………………………………………………………..…………..Traditional Ugandan Music
Rehema Apio, voice
Tracy Atoo, age 13, drum
Come Raggio Di Sol…………………………………………………….………………………Antonio Caldara (1671-1768)
Tennyson Tole, age 13, voice
Sheryl Stack, piano
Partita No.1 in Bb major BWV 825: Gigue ……………………………..………..……….… J. S. Bach (1685-1750)
Jaynie Lee, age 11, piano
Kinkachoo, I Love You…………………………………………………………………………….Phillip Houghton (b. 1954)
"…the Kinkachoo, a mythical bird, once wounded in the Spirit-Realm, heals and flies into the world."
Canción de Cuna………………………………………………………………………………….………Leo Brouwer (b.1939)
Estudios Sencillos XVI, XVII, XVIII, IXX/XX………………………………………………..………Leo Brouwer (b.1939)
BWV 1006a…………………………………………………………………………………….……………J.S. Bach (1685-1750)
Prelude
Gavotte en Rondeau
Menuettes
Gigue
Michael Gratovich, classical guitar
From the Dreaming, II. Wildflower ……………………………..…………………..…….Phillip Houghton (b. 1954)
Eugene Gratovich, violin
Michael Gratovich, classical guitar
Divertimento No.1 in D major, K.136 ……………………………………………………..W. A. Mozart (1756-1791)
Allegro…
Andante
Presto
CMFW Chamber Orchestra lead by Dr. Eugene Gratovich,  former Associated Concert Master of Austin Symphony Orchestra:
1st violin: Eugene Gratovich , Nick Hammel  (LASA High School), Melissa Rouf
2nd violin: Younnie Hur, Kaya Fagerstrom (McCallum High School), Nicole Kim (Clint Small Middle School)
viola: Mi-kyung Choi, Chet Fagerstrom  (LASA High School), Katja Lindner
cello: Sage Lee, Daniel Hur Meglino (Regents School of Austin), Rigel Sidhipong  (LASA High School)
Bass: Luzvic Backstrom (LASA/LBJ High School Orchestra Director)