Artists' Concert Series Spring 2017 presents
"Musical Kaleidoscope"
From Chopin to the Present, from Classical to Jazz
Saturday,  May 6, 2017, 4pm
Oak Hill United Methodist Church 7815 W. Hwy 290.  Austin, TX  78736
Get ready for fabulous piano and violin music of Chopin, Szymanowski, Glenc, Wieniawski, Grandos and … Gershwin performed by CMFW invited musicians from Poland. This will be a beautiful journey through time and emotions.
Featured Artists:
Michał Korzistka, piano
Marcin Hałat, violin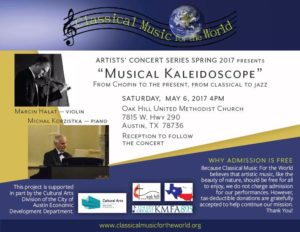 PROGRAM
Jacek Glenc   (b. 1967)
Summer Evening (Letni wieczór)
Timelessness (Tam, gdzie nie istnieje czas)
Michał Korzistka, piano
George Gershwin  (1898 – 1937)
Rhapsody in blue (piano solo version)
Three preludes for piano
Michał Korzistka, piano
George Gershwin  (1898 – 1937)
arr. Jascha Heifetz
Summertime
A Woman Is A Sometime Thing
Bess,You Is My Woman Now
It Ain't Necessarily So
Marcin Hałat, violin
Michał Korzistka, piano
——————– Intermission ——————–
Enrique Granados (1867 – 1916)
arr. Fritz Kreisler
Spanish Dance no.5 "Andaluza"
 Marcin Hałat, violin
Michał Korzistka, piano

Frédéric Chopin  (1810 – 1849)
Grande Valse op.42
Michał Korzistka, piano
Karol Szymanowski (1882-1937)
Masks, Op.34:
No. 1  Scheherezade
No. 2  Tantris, the Clown
No. 3  Don Juan's Serenade
Michał Korzistka, piano
Henryk  Wieniawski (1835 – 1880)
Polonaise Brillante A major op.21
Marcin Hałat, violin
Michał Korzistka, piano

ARTISTS BIOS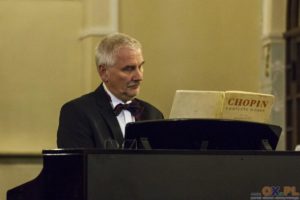 Dr. Michał Korzistka — piano
A prolific performer and academic educator gave many concerts in Poland and abroad, among others, at the revered Chopin Mansion in Żelazowa Wola, Poland, at the famous concert series at the Chopin Monument in the Royal Łazienki Park in Warsaw, at "Atma" in Zakopane, at the Pszczyna Castle, as well as in Great Britain, Germany, the Czech Republic, and in the United States.
From his early years, Michał performed many concerts, both solo and with the accompaniment of the orchestra. He has a special place in his heart for classical and romantic composers: Beethoven, Mozart, Liszt, Szymanowski, and Chopin.
Over the years, Korzistka has made a number of recordings, including a live recording of his concert with an orchestra in Weston, Great Britain, a "Music in Bielsko-Biala" CD, recordings for the 2nd Channel of the Polish Radio, and archival recordings for his alma mater, the Academy of Music in Katowice.
Dr. Korzistka is currently a full professor of the Cieszyn Branch of the University of Silesia, where he teaches piano and a number of other music courses. He is Vice President of the Bielsko Music Society. He also organizes international master classes for young pianists, under the auspices of the University of Silesia. His dual career – as a performing artist and a classical piano professor – leaves him precious little spare time which he devotes mostly to his family.
Dr. Korzistka performed in Austin before, twice solo as a guest of the Austin Polish Society, the Classical Music For the World, and the University of Texas at Austin (and as a guest of the legendary KUT radio host, John Aielli), and once in a duet with the violinist Marcin Hałat, with whom he will share the stage today in a very different new program.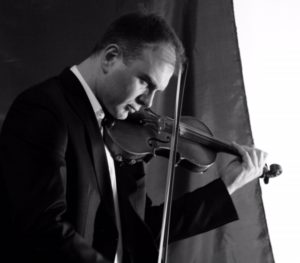 Dr. Marcin Hałat — violin
Classically trained and active classical musician, Marcin Hałat is no stranger to jazz and improvisation. He regularly plays in a jazz trio, in classical chamber ensembles that present music of the 19th and 20th century, and in a symphony orchestra. He collaborated with the acclaimed Polish jazz pianist Adam Makowicz and worked with the "Atom String Quartet", the first jazz string quartet in Poland, that won two "Fryderyk" awards of the Polish phonographic industry: "Jazz Phonographic Debut of the Year" and "Album of the Year-Jazz music".
In 2003, Dr. Hałat began his collaboration with the orchestra of the city of Cracow, Sinfonietta Cracovia, where he had the opportunity to play under the baton of such conductors as Christoph Eschenbach, Lorin Maazel, Valery Gergiev, and John Axelrod. Over the many years of cooperation with the Sinfonietta he has participated in many recordings for the prestigious European labels.
He played at major international festivals in France, Germany, Russia, Austria, Switzerland, Italy. In Poland, Marcin Hałat performed as soloist, chamber musician, and member of a symphony orchestra at such festivals as the Warsaw Autumn, Music Festival in Łańcut, Karol Szymanowski Festival in Zakopane, Easter Festival of Ludwig van Beethoven, Sacred Profane, Zamość Jazz Festival, Circles Arts Festival in Cieszyn, and Jewish Culture Festival in Cracow.
Mr. Hałat holds a doctoral degree in musical arts performance and has been teaching at the Institute of Music of the University of Silesia in Cieszyn since 2006.
This is the second time Marcin Hałat is performing in Austin with pianist, Michał Korzistka.