Founder/Executive Director – Younyoung (Younnie) Wall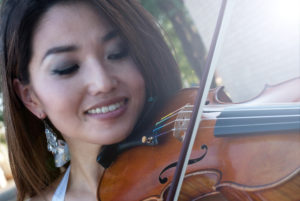 Younnie is a flower lover and dreamer who believes that arts enrich the human spirit. As the youngest of four children, she grew up listening to her siblings' play piano, flute, and guitar in Wonju City, S. Korea. When she attended a local university in her hometown, her love of violin emerged into her passion for sharing classical music with others. As a result, she created "Sangji University Symphony Orchestra" with Prof. Chan-sun Chung and her colleagues in 1992. Two years later, she became a founding member of the Wonju City Chamber Orchestra with Prof. Seung-min Kim. In 1999, Younnie earned her Bachelor of Music degree in Chugye Art University in Seoul, S. Korea.
In December of 1998, she came to the United States where her passion and love for violin continued. She studied with Brian Reagin, concertmaster in the North Carolina Symphony Orchestra, and played in the Durham Symphony Orchestra until she moved to Austin, Texas in 2001. In Austin she has been studying violin with Dr. Eugene Gratovich, former Associate Professor of Violin at the University of Texas and the Associate Concertmaster in the Austin Symphony Orchestra.
Younnie is a mother of two children, Gelsomina, born in 2000, and Daniel, born in 2004, both of whom are gifted young musicians. Younnie established Classical Music For the World in 2010 and has served as the organization's executive director since that founding date. She enjoys playing music together with her children in the CMFW Orchestra and in other CMFW programs. She also enjoys her realty career at Keller Williams Realty. She is a member of the Austin Federated Woman's Club and Oak Hill United Methodist Church.
Younnie is passionate about creating a healthy community culture in education and the arts.
Artistic Director, Francesco Mastromatteo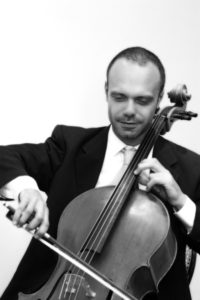 Described as a "virtuosic and passionate musician" by the Dallas Morning News, the Italian-born cellist Francesco Mastromatteo keeps performing in Italy and U.S.A. He is the artistic director of Associazione Amici della Musica "G. Paisiello" in Lucera (Italy) and he is also the Artistic Director of the non-profit organization Classical Music for the World in Austin (Texas). From 2008 to 2013 he has been the artistic director of the concert series "Spring of Harmony" held at S. Andrew's Presbyterian Church in Dallas. He is currently Professor of Chamber Music at the Conservatory "U. Giordano" in Foggia (Italy) – Residency of Rodi Garganico.
Francesco performed as a soloist with Meadows Symphony Orchestra in Dallas, Round Rock Symphony, Balcones Community Orchestra, Orchestra Sinfonica "Città di Pescara", Orchestra Sinfonica della Provincia di Foggia, the orchestra "Suoni del Sud", Meadows Wind Ensemble and Starlight Symphony. He also performed J.S. Bach's solo suites in the US and in Italy at the prestigious Ravenna Festival in 2009. He keeps a busy schedule as a chamber musician and is the cellist of the "Duo & Trio Mastromatteo". He performs in duo with pianists A. Wright, C. Wright-Ivanova and M. Schneider. He also collaborated in duo with A. Pompa-Baldi recording Grieg's cello sonata op.36 for Centaur Records.
Interested in performance practice as well as in contemporary music, Francesco performed with baroque ensembles like Concerto Italiano and Camerata Anxanum. He also performed the world premieres of T. Schwan and T. Sleeper cello sonatas, and of works for cello solo by S. Taglietti (Symplex), R.Franck (Taberah) and K. Hanlon (That's It).
He won first prize in the National Cello Competition "G. Turci" in Ravenna and first prize as duo cello and piano with Tommaso Cogato in the International Competition "Città di Padova". He was Principal Cellist of Orchestra Sinfonica Umberto Giordano of Foggia from 2003 to 2004.
Francesco completed his doctoral degree in Cello Performance at the Butler School of Music at the University of Texas at Austin in 2012 working with B. Tsang, he also holds a master's degree and an Artist Certificate from Southern Methodist University where he studied with A. Diaz. In Italy he worked with teachers like A. M. Mastromatteo, M. Shirvani, L. Piovano, and R. Filippini.
Following an inborn love for various artistic paths, Francesco also holds with honours a Master in Literature and History of Arts from the Università  "Aldo Moro" in Bari. He published a volume on Italian composer Umberto Giordano for Bastogi Editrice and an extensive article on Kodàly Solo Sonata op.8 for the International Journal of Musicology.
Young Music Ambassadors:
Gelsomina Min Meglino, violin & piano, 10th grade at Westlake High School
Daniel Meglino, cello & piano, 8th grade at Hill Country Middle School
Sage Lee, cello, 12th grade at LASA High School
Jaynie Lee, piano, 6th grade at Kealing Middle School
Chet Fagerstrom, violin & viola, 12th grade at LASA High School
Kaya Fagerstrom, violin & viola, 10th grade at McCallum High School
Nick Hammel, violin & viola, 12th grade at LASA High School
Joonhee (John) Cho, violin & piano, 12th grade at Westwood High School
Eliana Lee, cello & piano, student at SMU
Scott Avant, trombone, MA from North Texas University
Staff
PR – Yvonne Lim, journalist, founder of AustinAsian.com
Poster & Program Design – Monica Alford & Zena Alieva
Board Members:
Joanna Gutt-Lehr: Mathematics lecturer at Texas State University, former vice president of the Austin Polish Society, founding member and former chair of the Austin Polish Film Festival, film programmer of the Polish Monthly Film Series in Austin.
Jim Yatsu: International Relation Manager at Tokyo Electron Ltd. (TEL), former board president of Keep Austin Beautiful, board member of the Austin Asian Chamber of Commerce.
Advisory Committee:
Kathi Thomas: Noonday Concert Series organizer at Central Presbyterian Church, a member of Austin Table of Pan American Round Table (PART).
Felicity Coltman: Pianist, founder of Austin Chamber Music Center
Ron Cockroft: M.Div., Ph.D., BCC, retired Director Spiritual Care at Austin State Hospital
Daniel Dávila: M.Div., MAR. Diplomate – CPSP, Director Services at Austin State Hospital
Louise Avant: Music Minister at First Baptist Church of Austin
Literary Editor:
Mi-Ae Lee, Teacher at Doss Elementary School
Robyn G. Wall: Psychotherapist, author of "Tinker's Dam" and "Thoughts of Libby"
Agape Recital Organizers:
Younnie Wall
Joonhee (John) Cho, 12th grade at Westwood High School
Mi-Ae Lee, Teacher at Doss Elementary School
Friend Musicians:
Michael Schneider, piano
Michal Korzistka, piano
Eugene Gratovich, violin
DaXun Zhang, Bass Professor at UT-Austin
Todd Oxford, Saxophone professor at Texas State University, San Marcos
Friend Organizations:
Austin Polish Society www.austinpolishsociety.org
Robert Schumann Conservatory in Zwickau, Germany www.rsk-zwickau.de
Associazione Amici Della Musica "Giovanni Paisiello" in Lucera, Foggia, Italy www.amicimusicapaisiello.com